Reimagine Your New Outdoor Living Space With Lake Tahoe, California's
Number One Landscape Construction Company
Rock & Rose: Home of Your Local Landscape Construction Experts
Edward Abbey once said, "Wilderness is not a luxury but a necessity of the human spirit." For residents of the Lake Tahoe, California area, this wilderness can literally be right outside your front door. The outdoor space and the ability to interact with nature is one of the reasons so many people choose to call Lake Tahoe, CA home.  Lake Tahoe, California and the surrounding area provides its own natural beauty and lush environment that not many places can. At Rock & Rose, we believe professional landscape construction only enhances your home's organic beauty. Landscaping can highlight your property's natural aesthetics and add function to your outdoor living space. It can take a rocky butte and transform it into a hidden retreat. As landscape construction experts, our goal is to take your vision and make it a reality.  To learn more about our process or schedule a consultation contact our local office today. Looking for ideas to spark your imagination? Check out our portfolio below.
Adding Color to Your Garden with
Comprehensive Services Since 1992
Your landscape needs exceptional care to maintain its exceptional appearance. From installation to monthly maintenance, you can trust the experts at Rock & Rose to keep your property looking its best, day in and day out. If you're looking for a ground up landscape design and installation solution, you can also rely on our exclusive nursery pricing and first access to select materials to ensure that every project meets and exceeds your goals. Contact our landscaping team to get started with our professional landscape services.
Our design experts are standing by to turn your dreams into a reality. Your imagination and our knowledge is a winning combination that will transform your property into a personal oasis. Visit our design services page to schedule your consultation.
New landscape installations require expert care and expert knowledge; luckily, we have both. Our experienced crews are trained in the best techniques and have a deep understanding of the natural landscape. Ready to get started? Visit our landscape installation page now.
Creating and maintaining beautiful gardens inspired by the natural beauty of Lake Tahoe is one of our specialties. Our Fine Gardening team specializes in beautification and maintenance, providing seasonal color changes, flower care, composting, and more.  Visit our landscape care page for more information about our personalized programs.
Love your lawn with our customizable lawn maintenance plans. From weeding and fertilization to yard clean-up, you can count on Rock & Rose to keep your property looking its best. We're committed to the longevity of your lawn, down to every last blade of grass. Visit our lawn maintenance page to learn more about our solutions to your long-term maintenance needs.
Add a touch of comfort to your outdoor living space with the addition of an outdoor fireplace or firepit. Our clients love spending time in the outdoors and we're here to enhance your experience. For more, visit our outdoor living page to learn about our past projects.
We're not just a run of the mill landscaping company; we also own Lake Tahoe's premier nursery and garden center. We're pleased to offer our landscaping customers the added benefit of member pricing and first access to a variety of our best gardening tools and materials. We know from experience that gorgeous landscapes rely on high-quality plants and gardening materials. Further, we know that the most successful landscaping projects rely on a deeper understanding of native plants, local resources, and the region's climate. With our knowledge and your imagination, you'll find that achieving sustainable landscaping and natural balance is not only possible but also easy. At Rock & Rose's garden center and nursery, you'll work with our staff of lifelong gardeners and nature enthusiasts who are always happy to share tips and tricks as well as consult on how to coordinate your DIY projects. Visit our Garden Center page to learn more about our selection of landscaping equipment and plants.
See What Our Clients Have to Say
At Rock & Rose, we stand behind the quality of our work. We only hire the best design and landscaping experts. This helps us ensure we leave our customers happy, but you don't have to take our word for it.
Always love going here!! The employees are knowledgeable, kind, & helpful and they have a great healthy selection of plants. And inside they have a variety of house plants & cute & unique plant holders/hangers, and random knickknacks, great gift items.
Z B
The Rock & Rose team is the standard for landscape design, construction, and supplies in Truckee/Tahoe region. Jaclynn's design strengths add creativity and energy to any project big or small. The landscape supply business is high quality and staff to support your every need. I will continue to work with the Rock & Rose team and encourage you to do the same. Keep up the great work!!
KJ Smith
Worked with Jaclynn and couldn't have had a better experience. We have more projects we want to do and Jaclynn will be our first and only call!!! Thank you Rock and Rose!!
Tabb Randolph
Best landscape service provider we have had in North Lake Tahoe. Professional, prompt, and competent. After 40 years at Tahoe this company is the best we had used.
Ronald Roth
We worked with Rock & Rose and Tahoe Landscape Architecture for a full year to create a new yard which included Rock & Rose doing the grading, irrigation, making sure we were in compliance, stone work, and lighting. They are professional, on time, and they were great in their communications with us. We have been really pleased with their work and the level of supervision and care that the Erik and Jaclyn took in making sure everything was as expected or better. We recommend them and look forward to working with them in the future.
CHRISTINA J
Awesome project results! One of the best-landscaped homes easily in the entire community! 
Dean Vistnes
Jaclynn couldn't have been more helpful through the planning phase of my back yard paver/firepit project. I look forward to continuing working with her and everyone at Rock and Rose!
Darren Cox
Punctual service...kind employees and our lawn and trees are always thriving after the winter turns to spring!
Sandi and Dave Devencenzi
Top tier professionalism and attention to detail. Provided outstanding workmanship. Responds effectively and expediently with short notice requests. I highly recommend them for all your landscaping needs.
Ted Tetreault
Ordered topsoil for my garden. Delivery went as planned and the topsoil looks good.
Bob Cohorst
You guys always do a good job and the tech was good at communicating with me.
Rob Siri
Very happy with Rock and Rose. Landscapers and office workers are always friendly. Professional results, our yard looks great.
Anna and Keith Sutton
Add Your Outdoor Space to
Our Online Portfolio
At Rock & Rose, we're proud of our work. That's why we proudly share examples of our custom designs and landscaping projects in our online portfolio. We want your next project to join our online portfolio. When you contact Rock & Rose, we'll work with you to make sure your outdoor living space is exactly as you pictured. Ready to show your neighbors (and the world) your beautiful outdoor living space? Contact us online or call our Truckee office to request a quote.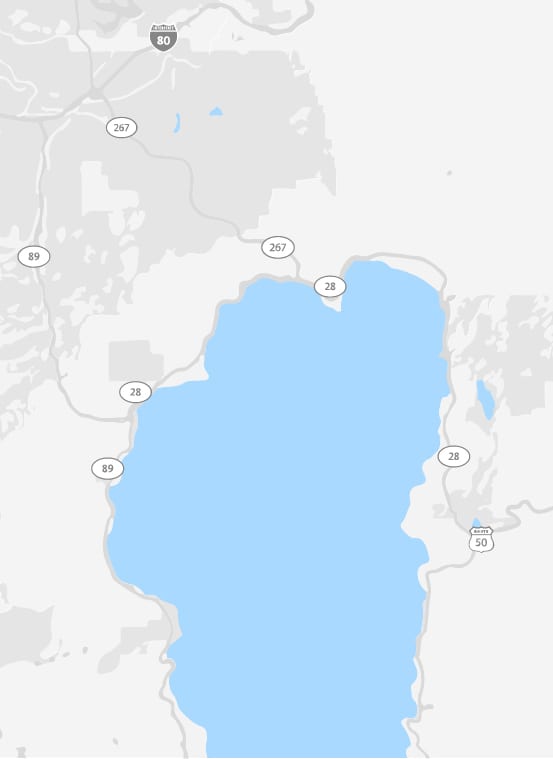 Truckee!
Tahoe Donner
Tahoe Donner
Martis Camp!
Martis Camp, CA
Gray's Crossing!
Gray's Crossing, CA
Old Greenwood!
Old Greenwood, CA
Meek's Bay!
Meek's Bay, CA
Tahoe City!
Zephyr Cove!
Zephyr Cove, NV
Schaffer's Mill!
Schaffer's Mill, CA
Lahontan!
Lahontan, CA
Crystal Bay!
Crystal Bay, CA
Incline Village!
Dollar Point!
Dollar Point, CA
Carnelian Bay!
Carnelian Bay, CA
Tahoe Vista!
Tahoe Vista, CA
Northstar!
Northstar, CA
Landscaping Services
Eastern California and Western Nevada
Our main office and retail store is located in Truckee, California but we happily provide all our services to the following areas:
In Truckee:
Martis Camp
Lahontan
Schaffer's Mill
Old Greenwood
Gray's Crossing
Tahoe Donner
Olympic Valley
Northstar
In the Lake Tahoe area:
Dollar Point
Carnelian Bay
Tahoe Vista
Crystal Bay
Zephyr Cove
Meek's Bay (Homewood)