North Lake Tahoe's Neighborhood
Garden Center & Plant Nursery. Based in Truckee.
Providing Expert Services and Garden Products Since 1992
From the simple daisy to the towering redwood, thoughtful landscaping decisions provide depth and beauty to any landscape. A garden is not something that simply exists, it's a living extension of art. The sights, smells, and delicate details all provide layered experiences that last a lifetime. At Rock & Rose, we believe that your outdoor space should be in harmony with nature. The best way to achieve this is to work with the natural landscape and native flora that make our region so beautiful. When you visit our local nursery and garden center, you'll have the opportunity to choose the best plants, tools, and supplies for any outdoor project. Visit us at our garden center and nursery to get started.
Rock & Rose began as a small landscaping/property clean-up service in 1992. Since then, we have expanded our services to provide landscape design, installation, and maintenance. As well, we opened the area's premier garden center and nursery to ensure that everyone could access our high-quality supply and knowledgeable staff. We believe in honesty and integrity and incorporate these values in every transaction we make. To learn more about our company and our local roots, visit our about page.
Committed to Serving Truckee and the Surrounding Community
Whether you work with one of our landscape installation professionals or visit our garden  center/nursery, customer satisfaction is our highest priority. We are committed to providing high-quality products and tools and value feedback from our community.
Rock and Rose did a fabulous job on our landscaping! They were very hands-on and responsive throughout the design and construction process. We have received many compliments from friends and neighbors! We highly recommend them!
T Butler
The Rock & Rose team is the standard for landscape design, construction, and supplies in Truckee/Tahoe region. Jaclynn's design strengths add creativity and energy to any project big or small. The landscape supply business is high quality and staff to support your every need. I will continue to work with the Rock & Rose team and encourage you to do the same. Keep up the great work!!
KJ Smith
Rock and Rose Landscaping has been awesome to work with!! They helped me design and construct a beautiful mountain landscape at my home on Lake Tahoe. Great crews and great people! And they have a fun plant nursery located in Truckee. Highly recommend!!
ANETTE STEINKOPFF
We worked with Rock & Rose and Tahoe Landscape Architecture for a full year to create a new yard which included Rock & Rose doing the grading, irrigation, making sure we were in compliance, stone work, and lighting. They are professional, on time, and they were great in their communications with us. We have been really pleased with their work and the level of supervision and care that the Erik and Jaclyn took in making sure everything was as expected or better. We recommend them and look forward to working with them in the future.
CHRISTINA J
Our Garden Center & Nursery Feels Like Home
At Rock & Rose, we believe it's important to have passion for whatever you do. For some people, this may mean taking a pen to paper. For others, it's speaking in front of a crowd. For us, there is no greater feeling than digging in the dirt and creating lush, colorful landscapes. Every seed we germinate is a reflection of the care we put into our work.
Our garden center and nursery is more than just a retail store. Our staff works hard to provide all the resources you need to inspire your next gardening project.
Because we own Lake Tahoe's premier nursery, our landscape design and maintenance clients enjoy first access and member pricing to select plant material. This means we're able to complete projects faster and with better local plant knowledge.
Every plant has unique needs. When you choose a plant, you have to consider where it will grow best. Soil, light, water, and even neighboring plants can affect the life of your garden. At Rock & Rose, we'll never just sell you a product and send you on your way. We're here to provide helpful tips, design ideas, and care instructions. If you have a question, don't hesitate to ask.
In many ways, landscaping is an art. It's about finding the right balance and enhancing your property's natural beauty. Our nursery offers a large selection of flowers, shrubs, and trees to add to your garden. We feature native plants as well as other popular options. If you don't see a plant you are looking for, ask one of our associates if we can order it for you.
Every artist needs good tools. Our store stocks essential tools for the beginning gardener to the experienced landscaper. We are constantly updating our stock and value the input from our customers. If you think there is something we should carry, let us know.
Big projects require bulk supplies. We offer mulch, compost, soil, sand, and other organic materials. Products are available for purchase by the cubic yard and are eligible for delivery. We want to make sure you have the right product for the job. If you're not sure what material you need, ask one of our landscaping specialists.
We love being a part of the Truckee community and love meeting new guests. Stop by our nursery to chat with one of our garden experts or do some shopping. We frequently offer sales to show customers our appreciation. To stay up-to-date on our latest promotions and events, connect with us on Facebook.
Are you looking for a career where you can talk to flowers? Have you been looking for an excuse to dig in the dirt? At Rock & Rose, we are always looking for hardworking, self-motivated individuals to join our team. Visit our careers page to view our current openings and learn how to apply.
Visit Your Local, Family-Owned
Garden Center & Nursery
Rock & Rose is a full-service garden center and nursery with an engrained passion for creating beautiful gardens. Whether you are an experienced gardener, or just starting out, our retail location will have all you need to get started on your next project. Our knowledgeable staff is here to assist you with any questions and make sure you have all the right supplies to help your garden thrive. We're committed to providing only the best customer service and welcome your feedback. 
Our nursery store is located at 10739 Glenshire Drive, Truckee CA, 96161 just off of Interstate 80 and Donner Pass Rd. If you are working with one of our landscape professionals, we welcome you to come into our nursery to choose plants that will complement your design. For more information about our services and our current store hours, contact us today.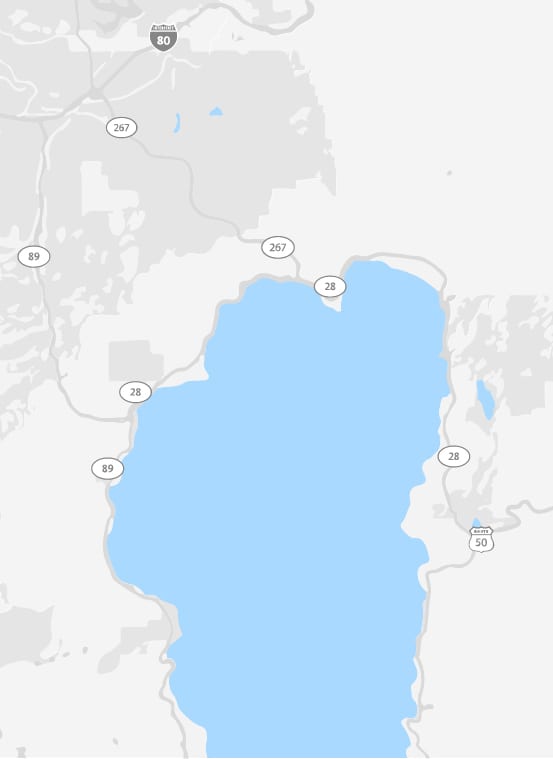 Truckee
Martis Camp
Martis Camp, CA
Gray's Crossing
Gray's Crossing, CA
Old Greenwood
Old Greenwood, CA
Meek's Bay
Meek's Bay, CA
Tahoe City
Zephyr Cove
Zephyr Cove, CA
Schaffer's Mill
Schaffer's Mill, CA
Lahontan
Lahontan, CA
Crystal Bay
Crystal Bay, CA
Incline Village
Dollar Point
Dollar Point, CA
Landscaping Services
Eastern California and Western Nevada
Our main office and retail store is located in Truckee, California but we happily provide all our services to the following areas:
In Truckee:
Martis Camp
Lahontan
Schaffer's Mill
Old Greenwood
Gray's Crossing
In the Lake Tahoe area:
Dollar Point
Crystal Bay
Zephyr Cove
Meek's Bay (Homewood)